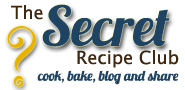 It looks like I am starting to get back on track with this blogging thing. The long summer days definitely help me get more accomplished. Take Secret Recipe Club for example. Last month I (embarrassingly) had to bow out of my favorite monthly recipe exchange. This month, however, I had a ball exploring Asiya's blog, Chocolate & Chillies. Cooking for her family with both Indian and Pakistani influence makes for lots of great recipes packed with garlic and chili…two of my favorites!
I had a hard time choosing between Asiya's Baked Samosas, Red Kidney Bean Curry or  Chicken Khorma. Ultimately though, laziness won over and I ended up picking her Masoor Ki Daal…because I had the ingredients on hand. This recipe is the perfect delicious, healthy, EASY and refreshing dinner to make after a long day at work. The effort was minimal and the result was delicious. I will definitely be digging into  this dish again soon!
Note on SRC: If you click on the "frog" at the bottom of this post, you will be brought to all the amazing recipes that were a part of today's Secret Recipe Club exchange. Check it out, it's a great way to find some new and delicious blogs!
Masoor Ki Daal (adapted from Chocolate & Chillies)
Ingredients
1.5 inch ginger root (the size of a fat thumb, peeled & chopped)
3 large garlic cloves (peeled)
1 tsp olive oil
2 Tbsp water
1 cup split red lentils (soaked in water for at least 15 minutes, then drained)
2.5 cup water
1/2 tsp red chili flakes
1/2 tsp salt
Juice from 1 large lemon (approx. 3 Tbsp)
1 Tbsp olive oil
Directions
Place ginger, garlic, 1 tsp olive oil and 2 Tbsp water in a food processor
Blend ginger mixture until almost smooth
Place lentils, 2.5 cups water, ginger/garlic paste, chili flakes and salt in a 4 quart pot
Bring pot to a boil, reduce to a simmer and partially cover
Simmer for 10 minutes or until lentils are cooked
Remove pot from heat and stir in lemon juice
Place 1 Tbsp olive oil in a large skillet
When oil is very hot, slowly add lentils
Allow to simmer for 1 minute
Taste for salt, pepper and additional lemon
Serve with fresh crusty bread & enjoy!
Happy Eating!
– Renee Hirschberg